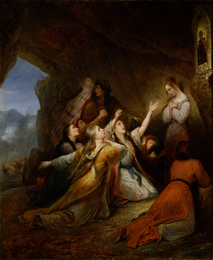 Greek Women Plead for the Virgin's Help
| | |
| --- | --- |
| Date | 1826 |
| Materials and Techniques | oil on canvas |
| Size(cm) | 65 x 55 |
| Inscriptions | Signed and dated in lower left: A. Scheffer/ 1826 |
| Credit Line | Purchased |
| Category | Paintings |
| Collection Number | P.1998-0006 |
A native of Holland, Ary Scheffer was a representative Romantic painter active in nineteenth-century France. The work takes its theme from the Greek War of Independence against the Ottoman Empire (1821-1830), a favorite subject of artists in the Romantic Period. Eugène Delacroix's masterpiece The Massacre at Chios (1824) is another example. Greek maidens in native dress are shown hiding in a cave from the battle outside, praying to an icon fixed to the rock wall. (Source: Gallery label, October 2016)
Provenance
Louis-Philippe d'Orléans (after 1826); Prince Antonie d'Orléans (Duc de Montpensier, catalogued in his collection in Seville, no. 352); Infanta Maria-Isabel (Comtesse de Paris, 1848-1919, on her marriage in 1864); Prince Ferdinand d'Orléans (Duc de Montpensier, 1884-1924); in 1924 to his widow Dona Maria Isabel de Olaneta y Ibarreta (Duchesse de Montpensier, 3rd. Marquesa de Valdeterrazo & Grandee of Spain 1893-1958); in 1958 to her second husband, Exc. mo. Jose Maria de Huarte y Jauregui (Marquez viudo de Valdeterazo, ?-1969); his heirs (1969-1995); Purchased by the NMWA, 1999.
Exhibition History
1827

Salon de 1827, Paris, 4 November 1827 - 0 0, no. 943
Bibliography
2000

New Acquisitions. Annual bulletin of the National Museum of Western Art. no. 33 (Apr. 1998-Mar. 1999), 2000, Takahashi, Akiya. New Acquisitions. pp. 21-24, List of New Acquisitions. p. 44, col. repr.

2013

Masterpieces: The National Museum of Western Art, Tokyo. Tokyo, The Western Art Foundation, 2013 (Japanese, preface in Japanese and English), no. 73, col. repr.